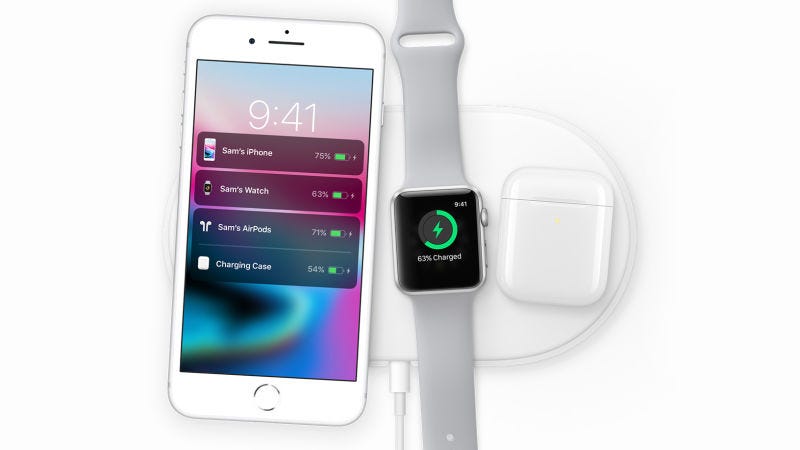 Bad news for Apple fans: AirPower is out. At least, Apple snuck that little announcement in right before the weekend to ensure that nobody would think the big cancellation was a hoax.
The official reason? AirPower isn't up to Apple's standards. The likely reason? It's really difficult for Apple to build a fancy charging mat, especially one that uses an alleged proprietary chip and scaled-down version of iOS to regulate the power management for any compatible device you place on it (in any location on the mat, no less).
What's a person to do? Gnash teeth? Wail? Ponder why the box of your AirPods' just-released wireless-charging case mentions AirPower compatibility? Honestly, you don't have to do anything. You're fine. There are plenty of fine alternatives to AirPower. They won't let you place a device anywhere you want, but they also won't cost an obscene amount of money (as Apple's mat likely would have).
Before you go shopping for a new wireless charging pad, there are a few things you should keep in mind.
Do you even need a fancy new charging mat?
I have both an iPhone X and an Apple Watch. The former has its own aftermarket wireless charging pad because I'm lazy and dislike plugging my iPhone in all the time. That said, the wireless charger is slower than what I'd get from a crazier wired solution—since it's only 7.5W max, which takes longer to charge my device than a 12W+ power adapter, though slightly faster than the dinky 5W wired adapter Apple still gives out. (Sigh.)
Is this something I notice in everyday use? Not when I first started out with my iPhone X, no. Now that my device is starting to show its age, its battery isn't what it used to be. If I need a speedy charge before heading out for the day, my wireless charging pad isn't the best option; I'm more likely to plug it in.
My particular wireless charger is also a bit fussy. Placing the iPhone on the pad usually works, but not always. And it's incredibly annoying to place the device down, wait for the little "I'm charging" noise, hear nothing, and then have to wiggle the iPhone around the pad to align the wireless charging coils and make the entire process work. Sometimes, sleepy David misses this step entirely, and wakes up with an iPhone that's desperately in need of some juice.
Wireless charging, while fun and useful, isn't perfect. Besides, your Apple Watch—assuming you have one—already shipped with a wireless charger that's incredibly easy to use. If you have a band that doesn't break, like a Sport Loop, it's the perfect size to squeeze in there and charge your device. Otherwise, you'll have to invert your band or take it apart just to lay your watch flat on a charging pad, which seems like an annoying process.
Make sure you're getting the best wireless-charging speeds
You can buy any number of "wireless charging pads" right now—half the likely reason why AirPower doesn't exist, since Apple probably realized it couldn't launch anything better than that which already exists. That said, not all wireless charging pads are created equal.
You're going to make sure that whatever charging pad you pick up supports 7.5W for Apple devices at minimum, which gives you the best iPhone wireless charging speeds as of when we wrote this article. It would be even better if your pad charges compatible devices at up to 10W—currently, only certain Android devices qualify, but Apple will surely allow some iPhones to charge at 10W at some future point (whether that comes in the form of a brand-new iPhone or a firmware upgrade).
Make sure your wireless charging pad isn't confusing
Some wireless charging pads support wireless charging at 10W, but with a little asterisk. If the pad supports three devices in total—one Apple Watch and two smartphones, let's say—then one side might support full charging at 10W (or 7.5W for an iPhone). The Apple Watch portion will support up to 5W (even though the watch itself only charges at 2.5W). And the third smartphone pad might support, say, 5W. Or, worse, you'll get a wireless charging pad that claims 10W, but only gives you a wall adapter that can handle 5W.
Though watts, voltages, and amps can be a little confusing, make sure you're reading the fine print for whatever wireless charging pad you're looking to purchase. And make sure that you fully understand how its charging setup works—as in, you're not bottle-necking its capabilities accidentally, nor are you using the "slower" side when you really mean to use the "faster" side, if applicable—things like that.
Stick to well-known brands
I'm no brand loyalist, but device charging is the one area where I would be more hesitant to purchase some off-brand charging device—one of those awkwardly described items you'll typically find promoted on a deals site, or all over Amazon, et cetera.
While this doesn't mean that a Belkin or a Mophie will never break or, worse, damage your device in some way, I feel a lot more secure about something that's well-known and put through it spaces by a ton of purchasers and reviewers. Typically, items that you can find on the Wireless Power Consortium's certification list are going to inspire more confidence than those that are not on the list.
As well, if something happens to your device as a result of your charger, you have greater chance for some kind of restitution from a well-known company than some random online merchant peddling super-cheap wireless charging pads. Go buy a cheap case or a knockoff watch band; don't skimp on your charger.